Specialty Coatings for Optics up to 20"
Service Detail from Cascade Optical Corp.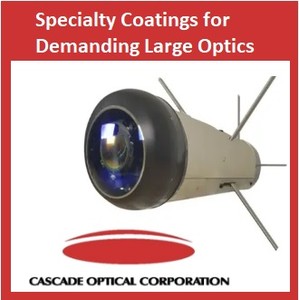 With a large range of coatings and the capability to handle BIG optics, Cascade Optical Corp has been assisting the optical industry since 1975. From telecommunications to space research and medical devices to military systems, Cascade Optical Coatings delivers coating services that meet the demands & challenges of mission critical projects.
From unique one of a kind designs to high volume production, Cascade Optical delivers the expertise, equipment, engineering and excellence you need.
Here are some examples....... and if you don't see what you need, call us. at 714-543-9777
Hydrophobic Coatings: We have been involved in the R&D development of Hydrophobic Coatings since our Telecommunication customers required Telcordia and HAST testing in the late 90s. Given the right processes and material types, and through trial and error, Cascade has exceeded testing expectations. Now, with the ever pressing demand for efficient alternatives to fossil fuels our research and design has paid off even further. Our coatings have been proven weather resistant in even the dampest of climates. With virtually no spectral shift, our coatings have been chosen to fulfill outdoor requirements for Fiber Optics, Photovoltaic's, Outdoor Camera systems, and protective windows for Jet Aircraft and Subterranean vessels.
High Temperature Coatings: Our high temperature coating process allows coatings to withstand temperatures greater than 800ºC. This enables our customers to enjoy the benefits of thin film filtration while simultaneously enduring a high temperature post process such as brazing sapphire coated windows into detector caps.
High Laser Induced Damage Threshold Coatings. We have been applying high laser power coatings since 1985. Our coatings are able to withstand LIDT 10MW/cm² - CW & 10GW/cm² with pulsed rep rates @ 1kHz . Strict adhesion to proper process control, material types, and custom tailored laser coating designs must all be taken into consideration in order to achieve maximum laser damage threshold. Cascade Optical Corporation has been chosen by the US Government to deposit high end LIDT coatings for many projects.
IR Filters: Cascade Optical Corporation has been making IR filters for over 25 years. We work with NIR , MWIR, and LWIR. We also have the distinct advantage of manufacturing Exotic substrate material suitable for each band. NIR 0.8 -1.8µm --applications can range anywhere from Telecommunications and Spectroscopy to Night Vision. Where, MWIR 3 -5µm is typically used on heat seeking missiles where the jet engine photon emission is the greatest. And, LWIR 8 -12 is often used for thermal imaging detection. Human radiation peaks at about 10 µm..
Ruggedized Metal Mirrors we have coated perform in even the harshest environments. Protected and enhanced Aluminum, Silver, and Gold mirrors have durability according to MIL-M-13508C and meet severe abrasion requirements of MIL-C-48497.