Technical Article: Optical Component Coatings
Featured Product from Cascade Optical Corp.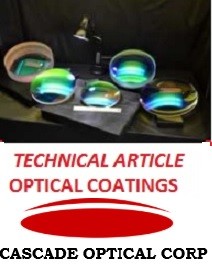 A CORNUCOPIA OF COATINGS FOR OPTICAL COMPONENTS.
Deposit thin layers of metallic or dielectric material on a lens, mirror or other optical device, and what's left is a thin-film optical coating. Such coatings are applied to control transmission or reflection properties through the mechanism of optical interference. Many types are available for specific applications and optical equipment.
The simplest optical coatings are thin layers of aluminum or other metals deposited on glass substrates to make mirror surfaces. The metal used determines the reflection characteristics of the mirror. Aluminum yields a reflectivity of 88-92 percent over the visible spectrum and is the most common and least expensive option for this purpose. Silver delivers a reflectivity of 95-99 percent even into the far infrared, but incurs a higher cost and is prone to declining reflectivity in the blue and ultraviolet spectral regions. Gold — the most expensive — provides an excellent reflectivity of 98-99 percent throughout the infrared, but limited reflectivity at wavelengths shorter than 550 nm.
Antireflective coatings are desirable in applications where light passes through an optical surface, and where low loss or low reflection is required. These include antiglare coatings on corrective lenses and camera lens elements and antireflective coatings on solar cells. The simplest antireflective coating consists of a single thin layer of transparent material. With a refractive index of approximately 1.38, magnesium fluoride results in a reflection of around 1.26 percent for glass substrate. Multilayer interference coatings use alternating layers of a low-index material like silica and a higher-index material to obtain reflectivities as low as 0.1 percent at a single wavelength. Broadband coatings provide antireflective properties over a much wider spectral range.
Moisture and corrosion resistance are imparted by hydrophobic (water repellent) coatings. These formulations can also provide self-cleaning properties for photovoltaic components, fiber optics and other equipment deployed outdoors or otherwise exposed to humid environments. Components can withstand temperatures of 800 degrees Celsius or more with the application of high-temperature coatings.
Optical components are used in many applications involving the use of high-powered lasers. In many cases the coated surface of the optical component may be exposed to laser power and pulse width conditions that cause the coated surface to reach its laser-induced damage threshold (LIDT), or the beam intensity at which damage occurs at the component's surface. Specialty coatings prepared by ion beam sputtering or ion-assisted deposition can prevent such damage to precision optics.
Night vision, thermography, gas sensing and other applications require infrared (IR) filters and coatings. Dielectric coatings are designed to optimize the performance of IR filters deployed in short-wave (1 - 3 µm), mid-wave (3 - 5 µm) and long-wave (7 - 15 µm) applications.
These types of coatings and more can be supplied for commercial, medical, military and aerospace applications by Cascade Optical Corporation, a manufacturer of custom vacuum-deposited thin-film coatings with more than 40 years of specializing in ion-assisted deposition, low-temperature, low-stress coatings designed for laser crystals, fiber optics plastic fibers and other delicate substrates. With our specialized techniques, we are able to generate coatings with greater packing densities to handle very high laser damage thresholds. Our vast research and design and innovative coating techniques will work for a wide diversification in the Electro-Optic community. Cascade is continuously upgrading our technologies with the most modern and up-to-date equipment in order to keep pace with industry. And, oftentimes, surpassing the most crucial standards in the market. We provide high-quality, quick lead times and the best pricing to help our customers meet their goals.
For more information, visit http://www.globalspec.com/supplier/Services/CascadeOptical.