BBO Pockels Cells
Featured Product from CASTECH, Inc.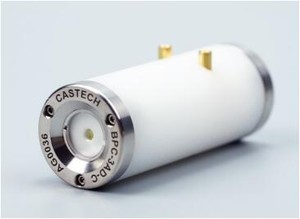 Pockels cells alter the polarization state of incident light when applying the voltage on electro-optic crystal. When working with polarizers, these cells can function as optical switches or laser Q-switches. BBO Pockels cells is based on the transverse Pockels effect. The voltage could be reduced by changing the ratio of BBO's width to length.
Due to the low piezoelectric response and high laser damage threshold of BBO, CASTECH's BBO Pockels cells can support up to 1MHz frequency. Complete portfolio with various clear aperture and length is available.
All the Pockels cells are equipped with protective windows with high transmittance AR coating to prevent the Pockels cells from contamination and moisture so as to provide adequate assurance of the product performance and durability.
Applications
Q-switching

Regenerative amplifier

Pulse picker

Cavity dumping

Beam chopper

High speed optical switch

Optical power stabilizer
Product Number
Aperture
(a)
Crystal Length
(l)
Crystal Quantity
(q)
Additional
(b)
Wavelength
(w)
BPC-alq-b-w
3(3mm)
4(4mm)
5(5mm)
6(6mm)
7(7mm)
...
A
(20mm)
B
(25mm)
...
S
(Single)
D
(Double)
T
(Triple)
…
C(Ceramic)
W(Wave plate)
B(Brewster window)
A(Brewster window & wave plate)
N(Nothing?
…
266nm
532nm
1030nm
1064nm
...
L
(Fiber-coupled)
FC/PC
Bare fiber
…
Product Number*
Voltage Contrast
Ratio
Clear Aperture
Crystal
Quantity
Transmittance
@1064nm
With ceramic
diaphragm
BPC-alS-C-w
≥1200:1
3~7mm
Single
≥99.3%
BPC-alD-C-w
≥1000:1
3~7mm
Double
≥99%
BPC-alT-C-w
≥800:1
3~7mm
Triple
≥97.5%
With polarizer or
wave plate
BPC-alS-b-w
>800:1
3~7mm
Single
≥98%
BPC-alD-b-w
>500:1
3~7mm
Double
≥97%
BPC-alT-b-w
>500:1
3~7mm
Triple
≥96%
BPC-L
>800:1
Fiber-coupled
/
/
*Damage threshold: 10 J/cm2 @ 1064 nm, 10 ns, 10Hz
*Customized products are available.
Dimensions(mm):
3AS
3BS
4AS
4BS
5AS
5BS
6AS
6BS
3AD
3BD
4AD
4BD
5AD
5BD
6AD
6BD
A
2.6
2.6
3.6
3.6
4.6
4.6
5.6
5.6
2.6
2.6
3.6
3.6
4.6
4.6
5.6
5.6
B
35
40
35
40
35
40
35
40
57.7
67.7
57.7
67.7
57.7
67.7
57.7
67.7
C
17.5
20
17.5
20
17.5
20
17.5
20
17.4
23
17.4
23
17.4
23
17.4
23
λ/4 voltage

(@ 1064 nm), kV
3.5
2.8
4.9
3.9
5.9
4.7
7.3
5.8
1.8
1.47
2.5
2
3
2.4
3.7
2.9