TAP In-Line isolators
Featured Product from CASTECH, Inc.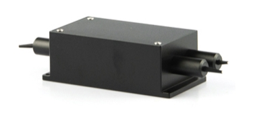 Product description:
CASTECH supplies TAP isolators which have a power monitoring port, exporting light in constant proportion of the output power for easier detection. It supports various output ratios like 0.1± 0.05%, 1± 0.5%, 2± 0.8%, 5± 1.0% and 10± 2.0%, of course, the ratio can be customized as well.
CASTECH produces TAP in-line isolators with high isolation, high power handling, high return loss, low insertion loss, excellent environmental stability and high reliability, The connection types of the fiber tail can be bare fiber or FC/APC.
Applications:
EDFA

DWDM Systems

Optical coherence detection

Laser sensing

Fiber communication