Produces Stable, Well Regulated Output Voltage
Product Announcement from Cell-Con, Inc.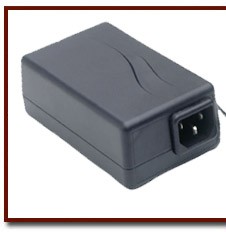 Switch Mode DC/DC Converters& AC/DC Medical Power Supplies

Switch Mode DC/DC Converters
• DC/DC converters transform a battery voltage into another, more useful and well regulated voltage.
• A typical battery voltage may be 12, 24, or 48VDC, but the output voltage of the battery can vary over a wide range during loading or charging.
• In such an application for an electronic system, the DC/DC converter is required to accept this wide input voltage range and produce a stable, well regulated output voltage to run the electronic system.
458660 DC/DC Converters - Switch Mode with Electrical Separation - Unregulated (Max. 100 W)
Protected against reversed polarity and overvoltage. Fuse at input
Thermal protection, and short circuit proof (output)
Input and output are electrically separated from chassis. The input is electrically separated from output.
6.3 mm push-on terminals (input and output)
"E"-marked vehicle directive ref. (95/54/EC)
458862 DC/DC Converters - Switch Mode with Electrical Separation - Regulated (Max. 81 W)
Protected against reversed polarity and overvoltage (transorb diode against transients). Switches off automatically at input voltages over or under the specified range. Fuse at input.
Thermal protection, short circuit proof and overvoltage protection (output)
Input and output are electrically separated from chassis. The input is electrically separated from output.
6.3 mm push-on terminals (input and output)
"E"-marked vehicle directive ref. (95/54/EC)
459260 DC/DC Converters - Switch Mode with Electrical Separation - Regulated (Max. 158 W)
Protected against reversed polarity and overvoltage (transorb diode against transients). Switches off automatically at input voltages over or under the specified range
Thermal protection, short circuit proof and overvoltage protection (output)
Input and output are electrically separated from chassis. The input is electrically separated from output
6.3 mm push-on terminals (input and output)
Mounting brackets available
"E"-marked ref. (95/54/EC)
459262 DC/DC Converters - Switch Mode with Electrical Separation - Regulated (Max. 81 W)
Designed for electrical forklift trucks and other electromotive applications where high voltage transients may occur
Protected against reversed polarity and overvoltage (transorb diode against transients). 6.3 A fuse (input)
Thermal protection, short circuit proof and overvoltage protection (output)
Input and output are electrically separated from chassis. The input is electrically separated from output
6.3 mm push-on terminals (input and output)
Waterproof (IP67) version available
"E"-marked ref. (95/54/EC)
AC/DC Switch Mode Medical Power Supplies
•Power supplies that convert AC line voltage to DC power.
• Regulation: controlling the output voltage to give a constant value with line, load, and temperature changes. -Switch mode technology makes this offering compact and efficient.
• Medical approval
452124 AC/DC Switch Mode Power Supplies
Universal input voltage
Short circuit proof
Overvoltage protection
Exchangeable AC and DC plugs
Mounting brackets available
Order mains cord separately
Waterproof (IP67) version available
Approvals:

-Medically certified (EN 60601)
-UL approved on request
459920 AC/DC Switch Mode Power Supplies
Universal input voltage (90-264 VAC)
Mounting bracket available
Order mains cord separately
Approvals:

- Medically certified (EN 60601)
- UL approved

Battery Chargers - Battery Packs - Custom and Stocked Cell-Con Incorporated is a U.S. manufacturer of standard and custom power systems consisting of battery chargers, battery packs, and value added services.

Cell-Con chargers are designed to charge battery packs comprising of lithium ion (Li-Ion), nickel metal hydride (NiMH), nickel cadmium (NiCd), and sealed lead acid (SLA) cell chemistries. Battery packs are typically assembled with these cell chemistries, but can also include alkaline and silver oxide chemistries.

Years of design and development have resulted in the unique ability to function as a single source for reliable, high quality electronic products to the OEM market. These products and services, coupled with our low lead time and attention to customer needs result in valued business relationships between Cell-Con and its partners.

For further information and technical data sheets, click on one of the following links, or use our navigation bars to find the power solutions required for your applications. • Standard Battery Chargers • Custom Battery Chargers • Custom Battery Packs • Value Add Services
---