Adaptable, strong and reliable Reel Retriever,
Featured Product from Century Spring Corp.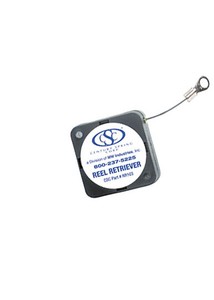 Adaptable, strong and reliable, the Reel Retriever, or "return reel", is a versatile, efficient device which offers theft-deterrence and customer convenience for point-of-purchase displays. A compact box contains a spring-loaded, retracting cable assembly which is securely fastened to the display, while the cable end is positively attached to the product, enabling customers to handle products in stores while maintaining product security and display order.
The Reel Retriever is perfect for use on displays of cameras, cell phones, golf equipment, power tools, shoes, TV remote controls, video games and many other products that are intended to be handled by customers. Utilizing a nylon-coated, braided, 7x7 stainless steel aircraft cable, Reel Retriever is available in many pull forces with cable lengths ranging from 6" to 72". A variety of interchangeable round or rectangular plastic ends (with or without adhesive) are also available.
Watch>>>300 million springs in stock! Stock Industrial Springs, custom spring manufacturer - Century Spring
Century Spring Corp. (CSC) - North America's leading catalog source of stock and custom springsfor MRO and OEM applications.
Century's 75 year tradition of success was built on having:
The largest stock spring selection in the world
Custom spring manufacturing
Superior customer service
Exacting quality standards
One order = one shipment and one invoice
Contact Century Spring Corp. today for any of your spring needs or to acquire more information on CSC's exceptional products and services.
Order the latest FREE CSC printed catalog!
Note: If the spring needed for your application cannot be found in our inventory, we can fabricate it for you.