Custom Extension Springs
Featured Product from Century Spring Corp.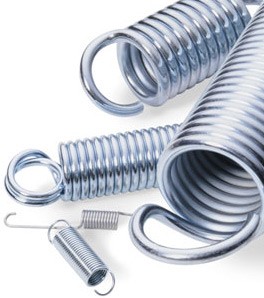 Extension Spring Measurements
Hold the spring in one hand, and the calipers in the other hand.
Place the calipers across the outside coil, either at the end or the center of the spring. This is called the Outside Diameter (O.D.).
Place the calipers on the wire at one end of the body coil of the spring. This is called the Wire or Material Size.
Place the calipers (or tape measure) on the full length of the spring, inside the hooks. This is called the Length (L.I.H.). (see diagram for example)
Materials
The highest grades of spring wire are used in manufacturing Century Spring products. Certifications of conformance for geometric tolerances for our stock springs are available upon request. We only offer material certifications for custom springs.
"Spring steel" is a term that includes music wire, hard-drawn wire and oil-tempered wire. Alloy steels for stock extension springs are offered only in 300 series stainless.
Tolerances
Tolerances for extension spring rates depend upon the body-diameter to wire-diameter but are usually +/- 10% and +/- 5% on the diameter. The initial tension is much more difficult to control and is offered as a reference value only.
Ends
The ends on the extension springs offered in our stock inventory are the common machine-made hook and full-loop configurations. The hooks or loops may have an across center transition of the last coil before forming the hook or loop. The angle between hook/loop planes (end position) is random. If you need a specific end configuration, it is best to contact our custom spring department.
Finish
Our stock extension springs contain a selection of commonly requested finishes:
Zinc
Gold Irridite
Black Oxide
Passivated (upon request)
None (can be plated upon request)