ULTRA LOUD Series Piezoelectric Alarms
Product Announcement from Challenge Electronics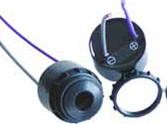 Challenge Electronics offers a full line of Ultra Loud, Lower Frequency, Panel Mounted, and Piezoelectric Alarms. The Ultra Loud Series has multiple ratings for Harsh Environment (waterproof,corrosion resistant,flame retardant).
The ULTRA LOUD SERIES Piezoelectric Alarms features:
A low sound frequency of 2,100 Hz.
108 dB(A) at 2 feet (61cm)
Operating Voltage of 5-15 Vdc and 6-28 Vdc
Relatively LOW Current, Maximum of 100mA
Small Plastic Case, 1.4" (35.6mm) Diameter 1.4" (35.6mm) Long
Reliable Piezoelectric/Solid State construction
Wide Range of Alarm Styles:
Continuous Tone
Intermittent Tone with 1 or 3 Pulses per second
Warble Tone with 1 or 3 Pulses per second
Siren Tone
Staccato Tone
Whoop Tone
Dual Function, Intermittent with 1 or 3 Pulses per second and Continuous Tones
Dual Function, Warble with 1 or 3 Pulses per second and Continuous Tones
Ratings and Compliances:
EMC/EMI/EMS/RF Compliance
Extended Storage Temperature -40°C to +105°C
Flame Retardant Plastic
Corrosion Resistant Stainless Steel Diaphragm
Hermetically Sealed Alarm
Withstands Exposure to Salt Spray, Per ASTM B117
Water Proof and Dust Exposure Safe, per IP-68 & NEMA 3R, 4X, and 12, with Optional Gasket
RoHS Compliance
ISO 9001 Certified.
Terminations:
Standard Termination available with: 0.25 Quick Disconnect Blades, Blades with 6-32 Stainless Steel Screws, or 18 AWG 5" (12.7cm) Long GXL Automotive Wire Leads
Additional Customizations are available.
For more audio products, click here
Email: sales@challelec.com
Phone: 1-800-722-8197
---