Inch Machined Race Heavy Duty Needle Bearings
Featured Product from Changzhou Mouette Machinery Co., Ltd.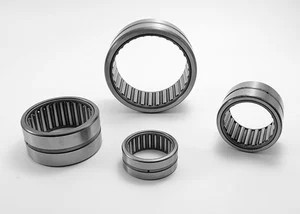 When the application requires high static, dynamic or shock loads heavy duty needle rollers are ideal. Machined or Heavy-Duty Type needle rollers are bearings with a relatively low sectional height and a solid machined outer ring. The solid outer ring provides high rigidity and allows this bearing to handle larger loads than drawn cup needle bearings. A lubrication groove and hole in the O.D. facilitates re-lubrication through the outer ring. These bearings are available in metric series and inch series, both of which have the caged type and the full complement type. It is therefore possible to select a suitable bearing for use under various conditions such as heavy loads and high-speed or low-speed rotations. Inner rings can be used for applications where it is impractical to use the shaft as the inner raceway.
Key Features:
Machined race needle bearing

Retained (caged) needle rolling elements
Annular lubrication groove