Airport Lighting Transformer
Featured Product from Charles Industries, LLC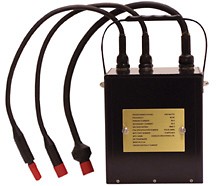 Charles Industries' 1500 Watt Isolation Transformers are used by airports worldwide to isolate high operating voltage for constant operation of approach lighting used on airport runways. Made in the U.S.A., Charles Isolation Transformers are built to the highest quality testing which includes visual inspection, ratio testing and HIPOT testing. Fully ETL accepted and FAA approved.
Encapsulated in an aluminum case and designed to operate efficiently while submerged in water, Charles transformers are approved to operate between -55° C and +70° C and can be installed above ground or direct buried.
A product bearing the ETL Listed Mark has met the minimum requirements of widely acceped product safety standards and indicates that the manufacturer has agreed to periodic follow-up inspections to verify continued compliance.
Features:
Passes NBP ALSF-2 lamp out power line carrier monitoring system signal

Meets FAA-E-2690A up to 1800 watts to allow for power lost in wiring

Quick connections consist of molded L-823 plugs and receptacles. Primary Side: Style 2
plug and Style 9 receptacle with 10 AWG, 5000 volt lead wire. Secondary Side: Two pin Style
8 receptacle with 12 AWG, 600 volt lead wire. All leads are 24.0"

Attached lifting handle

Meets 15KVDC insulation resistance requirements of FAA-E-269A

Made in the U.S.A.