Saw-tooth Dispersers vs. Rotor/stator Mixers
Featured Product from Charles Ross and Son Company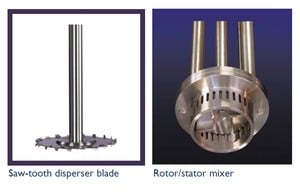 The saw-tooth disperser and rotor/stator mixer are two of the most widely used high speed mixers yet many are unaware of the differences in their utility and operating capacities. Knowing the unique attributes of these devices is important in mixer selection and process optimization.
High speed mixing is often required when incorporating solids into liquid especially when the powders are difficult to wet out, or when large amounts of solids are involved. Mixing under high shear and turbulent flow conditions is also ideal for particle size reduction, emulsification and homogenization. In many industries, saw-tooth dispersers and rotor/stator style mixers are used to accomplish high speed mixing.
The saw-tooth disperser is a standard workhorse used in the manufacture of paints, inks, chemicals, plastics, adhesives and other products. It is an economical and simple piece of mixing equipment with the primary purpose of incorporating powders into liquid and breaking down agglomerates to produce a stable dispersion. Often, it functions as a "pre-mixer" wherein the resulting mixture is further processed or milled in a downstream polishing step to produce the final dispersion.
The rotor/stator is more commonly used for emulsification and particle size reduction due to the high shear conditions it develops. It is important to note that this reduction of "particle size" most commonly includes the breakdown of agglomerates and not necessarily of individual particles. Except with highly friable materials, it is rarely the case that primary particles are broken down in a rotor/stator mixer, even in special ultra-high shear designs that run up to 11,000-18,000 fpm.