ADA/DDA CABLE PROTECTORS
Featured Product from Checkers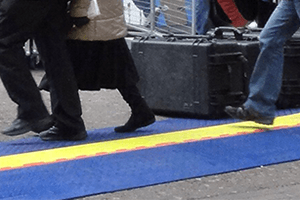 ADA/DDA CABLE PROTECTORS
ADA/DDA cable protection systems ensure the same quality of cable protection as the rest of the Checkers™ line while creating a seamless transition from ground level to the cable protector platform. Our ADA and DDA cable protector line is perfect for all sort of vehicle and heavy foot traffic.
ADA/DDA creates a seamless crossing for carts, wheelchairs, and other pedestrian devices that would find the crossing over bare cables difficult.
CABLE PROTECTION
Checkers™ offers the most extensive line of high-performance cable/hose protection products in the world. These durable cable protection systems provide a safer method of passage for pedestrian traffic, vehicles and heavy-duty equipment while protecting valuable electrical cables, cords and hose lines from damage.
To fit the needs of a wide variety of applications, we offer lidded models, drop-over models, open-top models, and low-profile models constructed from all-weather polyurethane. We also offer rubber duct models for light applications.
Why Checkers?
Companies all over the world trust Checkers products with their safety needs. The primary reason you can trust Checkers is that we have a 25-year track record of providing highly effective safety solutions that save lives and protect assets.
Checkers takes the safety of your people and property very seriously. This means working directly with industry experts and safety managers to design products that fit the specific needs of their working environments. Our product development takes place on work sites where our engineers experience the safety challenges firsthand, which allows them to understand the conditions and circumstances where our industrial safety products will be required to perform. Through this process, we gain the knowledge and insight to ensure every one of our customers' needs is satisfied.