Checkers™ provides the necessary pieces
Featured Product from Checkers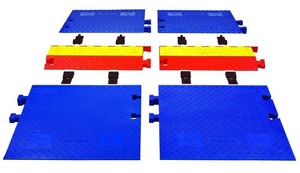 CABLE PROTECTION
Checkers™ offers the most extensive line of high-performance cable/hose protection products in the world. These durable cable protection systems provide a safer method of passage for pedestrian traffic, vehicles and heavy-duty equipment while protecting valuable electrical cables, cords and hose lines from damage.
To fit the needs of a wide variety of applications, we offer lidded models, drop-over models, open-top models, and low-profile models constructed from all-weather polyurethane. We also offer rubber duct models for light applications.
Checkers Safety®
Checkers Safety® began in 1987 with a simple vision that still rings true today:
Be a dynamic and growing organization dedicated to saving lives and protecting assets by delivering innovative safety products.
We create reliable safety solutions for our customers by offering a variety of safety products for the Industrial, Military, Mining, Oil & Gas, Utilities, Entertainment and Transportation/Traffic Safety industries.