Don't Get Stuck Without Ground Protection Mats
Featured Product from Checkers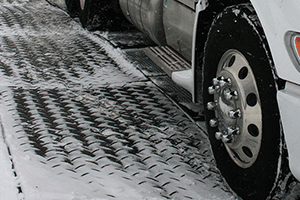 Don't Get Stuck Without Ground Protection Mats
When working on outdoor projects,?it's important to consider ground protection.?Landscape?damaged by heavy equipment?can be?expensive?to repair.?Plus,?uneven or muddy ground at job sites may?cause project delays?or stoppage.?But?what should you use to?protect?soft or sensitive ground conditions?
Wise contractors know plywood?isn't the right choice.?There are several reasons why plywood isn't?suitable?for ground protection.?It's very porous,?which causes?it?to?absorb water?and makes the wood?heavy and weak.?It also absorbs and leaches oils, fluids and chemicals. Exposure to weather often accelerates the speed at which?plywood?rots or cracks,?meaning it?frequently needs to be replaced.
While it may seem like a cheap ground protection solution, plywood's short life cycle means it's more expensive over time. The approximate cost of replacing 12 sheets of plywood, four times a year,?is more than $2,000 annually.?
Further Reading
Contractors across the country know Checkers Safety's line of ground protection matting is the best option. These high-density?polyethylene?mats can be used and reused in the harshest conditions.?They are ideal to?create temporary roadways when working over delicate ground.??
Benefits of Checkers Safety Ground Protection Mats??
Durable and long lasting

?

Easy to handle

?

Molds to sloping ground conditions

?

Can be locked into place?using single or double Turn-A-Links

?

Have high load capacity

?

Non-slip surface

?

?
Learn more about our line of ground protection mats here.
Follow us on:
Cable Protector Selection Tool
Why Checkers?
Checkers Safety® began in 1987 with a simple vision that still rings true today: Be a dynamic and growing organization dedicated to saving lives and protecting assets by delivering innovative safety products. We create reliable safety solutions for our customers by offering a variety of safety products for the Industrial, Military, Mining, Oil & Gas, Utilities, Entertainment and Transportation/Traffic Safety industries.