Grass & Ground Protection Mats!
Featured Product from Checkers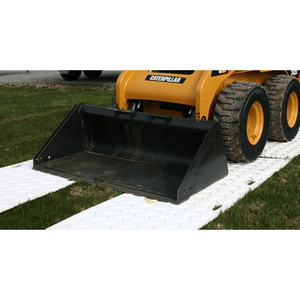 Landscaping Equipment Checklist
Here is a preliminary landscaping equipment list to give you an idea of some of the things you may need, particularly in terms of lawn care equipment, to start a landscaping business. Whether your plan is to eventually develop into a residential or a commercial landscape company, these items are important to obtain.
Trucks and trailers
Eye, ear and hand protection
Push and riding lawn mowers
Leaf blowers and brooms
Sheers, trimmers and pruners
Edgers and weed whackers
Lawn and trash bags
Ground protection and tarps
Rakes, hoes and pitch forks
Augers and post diggers
Spades and shovels
Hoses and water cans
Small loaders and backhoes
Tool maintenance equipment
Rope, twine, and chains
Grass & Ground Protection Mats
Sturdy grass and ground protection mats can save you time and money by cutting down on or eliminating the need to constantly have to return to replace or repair grass, flowers, and other sensitive areas of your landscaping job sites. Plywood is a popular and cheap form of wooden ground protection normally used for steel-tracked vehicles. Although plywood is a cheaper option, this type of ground protection has many downsides and is not cheaper in the long term due to shorter materials life expectancy. A better option is Checkers AlturnaMATS®. Made from 100 percent recycled high-density polyethylene (HDPE) and recyclable, they help lower carbon emissions and reduce landfill waste due to their long lifetimes. They carry a load-bearing capacity of up to 20 tons and provide increased traction and grip in any weather conditions you may encounter in the spring, summer, fall, and winter.
Ground Stabilization and Reinforcement Products
As a landscaper, you want to deliver the vision of your client, whether with residential landscaping or commercial landscaping, as precisely as possible. When you are finished, a garden or pond that lasts can also protect your reputation and guarantee business longevity and a healthy pool of clients. Using ground stabilization products will help you a long way toward meeting those goals. They are useful in situations where stresses are applied in two directions, ideal for base reinforcement and subgrade improvement, and may offer cost-efficient solutions for roadway applications you may face as a landscaper. If you find yourself needing a paving system for one of your landscape renovation projects, the GeoGrid® from Checkers™ is a great piece of landscaping equipment to use. The cellular grid paving system allows fast and efficient implementation of permanent ground reinforcement and stabilization.
Outrigger and Crane Pads to Help Move Your Loads
Whether soil, bark or gravel are the loads your landscaping design company needs to haul, using quality outrigger pads and crane pads can help protect and secure your loads, and your equipment for longevity. Outrigger and crane pads help prevent imprints from a crane you may be using with outriggers on certain commercial landscape design projects, such as projects that require moving large rocks. Always use proper safety best practices when using crane and outrigger pads. Pads should be set up on sufficiently drained, compacted, and level surfaces. All uneven ground should be leveled prior to the placement of any outrigger or crane pad. Look for impediments, depressions, voids, trenches, excavations, slopes, or signs of other poor ground conditions that can lead to unsafe situations. Instruct and guide your landscape company team during training as needed.
Why it's Important to Invest in the Right Equipment
Having the right commercial landscaping equipment and investing in the right residential landscaping equipment can help the bottom line in the long run and save you time by mitigating the amount and severity of emergency repairs that are required. This may apply both in terms of the materials provided by your client that you are manipulating as a landscaper, as well as your own equipment you bring to the job. You may lose time during the job having to fix problems that could have been avoided if you had the right equipment to start with. Commercial lawn care equipment can be expensive, but you may already be dealing with high costs. One example of a residential landscape project with high costs that can be mitigated if you avoid having to stop and fix issues that arise by having the right equipment is lawn replacement. With four men needed to roll the sod, one to procure new sod, and another to dispose of the old stuff, you are looking at $324 just for basic manpower. Your total project will wind up costing approximately twice that with materials, and deliver you a profit margin of 28 percent. Using the right tools and equipment that help reduce the number of sheets, sod covers, and rollers, and having other equipment you may need on hand, you may wind up seeing higher profits.
Follow us on:
Cable Protector Selection Tool
Why Checkers?
Checkers Safety® began in 1987 with a simple vision that still rings true today: Be a dynamic and growing organization dedicated to saving lives and protecting assets by delivering innovative safety products. We create reliable safety solutions for our customers by offering a variety of safety products for the Industrial, Military, Mining, Oil & Gas, Utilities, Entertainment and Transportation/Traffic Safety industries.