Guard Dog for Medium-Duty Cable Protection
Featured Product from Checkers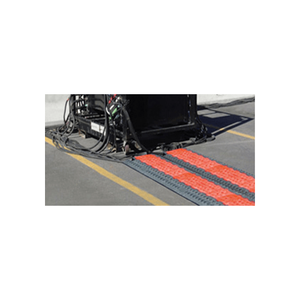 Our most versatile cable protectors, the Guard Dog® is a jack of all trades with its solid construction and is equipped to handle pedestrian traffic and over-the-road vehicles. The modular interlocking design is ideal for use in amusement parks, entertainment venues, sporting events, and most public, commercial, industrial, construction, and utility applications.
Guard Dog® cable protectors come in multiple variants to best suit your working environment or venue. One- to five-channel cable protectors are available ensuring a safer crossing for vehicles and pedestrian traffic while protecting valuable electrical cables and hose lines from damage.
Medium Duty Cable Protectors For Work Sites and Venues
Checkers™ medium-duty cable management offers the most extensive line of high-performance cable/hose protection products. Medium-duty cable protection systems provide a safer method of passage for pedestrian traffic, vehicles and equipment while protecting valuable electrical cables, cords, and hose lines from damage.
Medium-duty cable protectors include Guard Dog®, Yellow Jacket®, Grip Guard®, Bumble Bee®, and Firefly®. With this wide selection, Checkers™ can supply the perfect cable protector for your work site or venue.
Cable Abrasion Protection Ramps & Covers
Checkers Safety can provide your job site with above ground cable protection ramps and covers for light use traffic to heavy duty extreme crossovers.
Why Checkers?
Checkers Safety® began in 1987 with a simple vision that still rings true today: Be a dynamic and growing organization dedicated to saving lives and protecting assets by delivering innovative safety products. We create reliable safety solutions for our customers by offering a variety of safety products for the Industrial, Military, Mining, Oil & Gas, Utilities, Entertainment and Transportation/Traffic Safety industries.