High load capacity outrigger crane pad
Featured Product from Checkers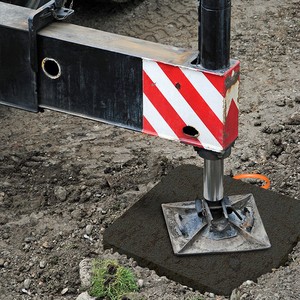 XO Pad Brochure
Catalogs & Industry BrochuresSafetyTech® Outrigger Pads
SafetyTech® is a high load capacity outrigger crane pad with a vertical load bearing capacity of up to 140,000lbs* for our largest size. It is designed to fully support vehicles and cranes without warping, splintering or bending and the pad features a safety textured tread surface to further improve grip and stability.
SafetyTech® is manufactured from a highly durable proprietary engineered thermoplastic material which provides exceptional support. It is non-conductive, non-magnetic, and resistant to temperature, chemicals, water, and oil.
SafetyTech® features high visibility safety orange patented TuffGrip® handles ensuring optimum maneuverability and will return to normal after bending, retaining its original shape.
Why Checkers?
Companies all over the world trust Checkers products with their safety needs. The primary reason you can trust Checkers is that we have a 25-year track record of providing highly effective safety solutions that save lives and protect assets.
Checkers takes the safety of your people and property very seriously. This means working directly with industry experts and safety managers to design products that fit the specific needs of their working environments. Our product development takes place on work sites where our engineers experience the safety challenges firsthand, which allows them to understand the conditions and circumstances where our industrial safety products will be required to perform. Through this process, we gain the knowledge and insight to ensure every one of our customers' needs is satisfied.