Protect cables and hoses
Featured Product from Checkers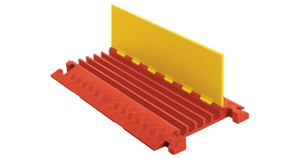 5-Channel Heavy Duty Linebacker
LINEBACKER® 5-CHANNEL CABLE PROTECTOR with hinged lid provides a safe crossing for vehicles and pedestrian traffic while protecting valuable electrical cables and hose lines from damage in extreme weather conditions and work environments. Modular interlocking design is ideal for use in oil and gas applications, mining, military, and other industrial environments with heavy trucks and forklifts
Protects cables and hoses up to 1.35″ outside dia.
Patented T-Connectors to extend to any length
Reinforced hinged lid for easy cable placement
All-weather polyurethane construction
Patented 5-bar tread surface for maximum traction
Easy to transport, setup, disassemble, and store
Ideal for use in oil & gas applications, mining, military, and other industrial environments with heavy trucks and forklifts
Why Checkers?
Companies all over the world trust Checkers Industrial Safety Products with their safety needs. The primary reason you can trust Checkers is because we have a 25-year track record of providing highly effective safety solutions that save lives and protect assets.
Checkers takes the safety of your people and property very seriously. This means working directly with industry experts and safety managers to design products that fit the specific needs of their working environments. Our product development takes place on work sites where our engineers experience the safety challenges firsthand, which allows them to understand the conditions and circumstances where our products will be required to perform. Through this process we gain the knowledge and insight to ensure every one of our customers' needs is satisfied.
Our team then uses innovation and advanced manufacturing processes to create effective products that withstand the harshest weather and working conditions that exist in industrial applications. At this point, we again involve industry experts and safety managers to field-test our products under extreme working conditions. We also submit our products to independent third-party contractors for testing and compliance evaluations. This rigorous testing protocol ensures Checkers products meet or exceed all industry compliance regulations and standards.
Another reason to work with Checkers is that our service professionals are trained to understand the safety issues in many industries. We can quickly help you find the right safety products to protect your people and bring your business into compliance.
Checkers Safety Group® began in 1987 with a simple vision that still rings true today:
Be a dynamic and growing organization dedicated to saving lives and protecting assets by delivering innovative safety products.
We create reliable safety solutions for our customers by offering a variety of safety products for the Industrial, Military, Mining, Oil & Gas, Utilities, Entertainment and Transportation/Traffic Safety industries.
We house the brands Notrax® Mats for Professional Use, TuffTrak® Ground Protection Solutions, Linebacker® Cable Management, and Monster™ Motion Safety.
Specialties
Oil & Gas, Military, Construction, Mining, Transportation & Traffic Safety, Entertainment, Janitorial & Sanitation