The Best ADA Cable Covers for Foot Traffic
Featured Product from Checkers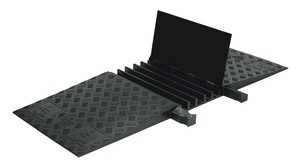 5-Channel General-Purpose Guard Dog® ADA Cable Protectors
Made of all-weather polyurethane and featuring a patented 5-bar tread surface. Guard Dog's 5-channel ADA cable protectors are equipped with built-in accessibility ramps. This allows them to provide safe passage for both vehicle and foot traffic without the need for separate connectors. Featuring a modular, interlocking design available in lightweight 18'' sections, this protector is ideal for virtually any use. A reinforced hinged lid allows for easy cable placement, while a recessed carrying handle on the protector's underside makes transportation easy. The product is compatible with all standard 5 channel Dog Bone Connector Models, meaning you don't need specialized equipment in order to extend it to whatever length you need.
Medium Duty Cable Protectors For Work Sites and Venues
Checkers™ medium-duty cable management offers the most extensive line of high-performance cable/hose protection products. Medium-duty cable protection systems provide a safer method of passage for pedestrian traffic, vehicles and equipment while protecting valuable electrical cables, cords, and hose lines from damage.
Medium-duty cable protectors include Guard Dog®, Yellow Jacket®, Grip Guard®, Bumble Bee®, and Firefly®. With this wide selection, Checkers™ can supply the perfect cable protector for your work site or venue.
Cable Abrasion Protection Ramps & Covers
Checker's Safety can provide your job site with above ground cable protection ramps and covers for light use traffic to heavy duty extreme crossovers.
Why Checkers?
Checkers Safety® began in 1987 with a simple vision that still rings true today: Be a dynamic and growing organization dedicated to saving lives and protecting assets by delivering innovative safety products. We create reliable safety solutions for our customers by offering a variety of safety products for the Industrial, Military, Mining, Oil & Gas, Utilities, Entertainment and Transportation/Traffic Safety industries.