We understand the ground is worth protecting
Featured Product from Checkers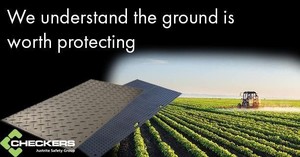 GROUND PROTECTION MATTING
Checkers™ has the largest and most respected range of lightweight temporary access and ground protection matting on the market. Checkers'™ market-leading ground protection mats deliver safer and more robust temporary access, roadways or working platforms for construction vehicles and site personnel. Made from 100% recycled high-density polyethylene, Checkers™ mats are hard wearing and robust. Our medium-duty range offers a variety of sizes, colors and traction surfaces ranging from rugged traction to low-profile pedestrian traction to smooth.
The Checkers™ range of matting is largely manhandle-able meaning it's easily deployed by a team of two. This reduces the downtime while building temporary access roadways, allowing workers to get the job done with minimal time wasted.
Our range of ground protection mats has load bearing capacities of up to 120 tons.