Worksite Personal Protective Equipment
Featured Product from Checkers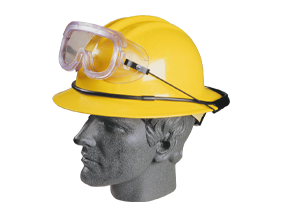 Personal Protective equipment
Personal Protective equipment from Checkers offer protection for personnel in a variety of working conditions. Checkers goggle retainers are designed for use where protective eyewear must be worn with a safety hat or cap. Goggles are an important piece of protective equipment for personnel, goggle retainers ensure that workers have easy and reliable access to goggles whenever they are needed.
Goggle retainers are easy to install and require no tool to fit on a hard hat or helmet. The advantage of using goggle retainers is that goggles will not fall off under normal working conditions. When goggles are not in use, goggle retainers will securely fasten goggles that are used for eye protection.
Follow us on:
Cable Protector Selection Tool
Why Checkers?
Checkers Safety® began in 1987 with a simple vision that still rings true today: Be a dynamic and growing organization dedicated to saving lives and protecting assets by delivering innovative safety products. We create reliable safety solutions for our customers by offering a variety of safety products for the Industrial, Military, Mining, Oil & Gas, Utilities, Entertainment and Transportation/Traffic Safety industries.