Scrapes debris and channels it away
Featured Product from Checkers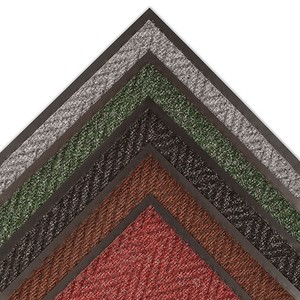 Arrow Trax™ mats provide exceptional performance in highly visible areas that require a subtly attractive yet functional matting product. The durable herringbone pattern offers non-directional scraping action and moisture retention, and a full 38 ounces of needle-punched yarn per square yard provides the highest degree of crush resistance in heavy traffic areas.
Features & Benefits
High/low herringbone carpet design is attractive and functional - Scrapes debris and channels it away from shoes regardless of traffic flow
38 ounces of needle-punched yarn per square yard provides the highest degree of crush resistance in heavy traffic areas
Vinyl backing helps reduce mat movement
Recommended product as a part of the GreenTRAX™ program for "Green Cleaning" environment
Custom lengths available (3', 4', and 6' widths)
Available Colors: Charcoal, Autumn Brown, Gray, Burgundy, Hunter Green
Spec Sheet
Notrax Mats for Professional Use
Notrax is a name known throughout the industry, and is synonymous with quality and performance. We manufacture a diverse selection of mats for different applications, ranging from anti-fatigue matting to entrance matting and everything in between. Without matting, dirt and debris can easily be tracked through entrances, increasing cleaning times and costs. With Notrax mats, dirt stops at the door. Our ergonomic anti-fatigue mats feature thick padding to alleviate strain and prevent injuries caused by lack of motion. Our best in class manufacturing practices ensure that our mats hold up in high traffic areas and keep facilities clean and safe.
Why Checkers?
Companies all over the world trust Checkers Industrial Safety Products with their safety needs. The primary reason you can trust Checkers is because we have a 25-year track record of providing highly effective safety solutions that save lives and protect assets.
Checkers takes the safety of your people and property very seriously. This means working directly with industry experts and safety managers to design products that fit the specific needs of their working environments. Our product development takes place on work sites where our engineers experience the safety challenges firsthand, which allows them to understand the conditions and circumstances where our products will be required to perform. Through this process we gain the knowledge and insight to ensure every one of our customers' needs is satisfied.
Our team then uses innovation and advanced manufacturing processes to create effective products that withstand the harshest weather and working conditions that exist in industrial applications. At this point, we again involve industry experts and safety managers to field-test our products under extreme working conditions. We also submit our products to independent third-party contractors for testing and compliance evaluations. This rigorous testing protocol ensures Checkers products meet or exceed all industry compliance regulations and standards.
Another reason to work with Checkers is that our service professionals are trained to understand the safety issues in many industries. We can quickly help you find the right safety products to protect your people and bring your business into compliance.
Checkers Safety Group® began in 1987 with a simple vision that still rings true today:
Be a dynamic and growing organization dedicated to saving lives and protecting assets by delivering innovative safety products.
We create reliable safety solutions for our customers by offering a variety of safety products for the Industrial, Military, Mining, Oil & Gas, Utilities, Entertainment and Transportation/Traffic Safety industries.
We house the brands Notrax® Mats for Professional Use, TuffTrak® Ground Protection Solutions, Linebacker® Cable Management, and Monster™ Motion Safety.
Specialties
Oil & Gas, Military, Construction, Mining, Transportation & Traffic Safety, Entertainment, Janitorial & Sanitation