Checkers™ heavy-duty wheel chocks
Featured Product from Checkers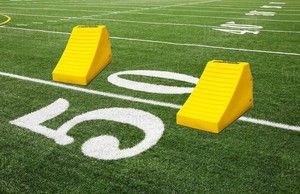 HEAVY-DUTY WHEEL CHOCKS
Checkers'™ heavy-duty wheel chocks are comprised of two product lines, the MC and the AT series.
Checkers'™ heavy-duty MC series wheel chocks are manufactured with highly durable, lightweight polyurethane construction. With Checkers'™ largest base, the MC series is ideal for use with heavy equipment such as haul trucks, loaders, and cranes. For vehicles with wheels with a diameter of up to 165 inches.
MC chocks are the #1 selling wheels chocks in the mining industry, approved and used by Caterpillar and mines worldwide, made of tough, weather-resistant urethane, resistant to oils, fuels, and solvents, and meet MSHA specifications.
Checkers'™ heavy-duty AT series wheel chocks are made with durable, lightweight polyurethane. Featuring replaceable aluminum base plates with posi-grip cleats or anti-slip rubber traction pads, the AT series is ideal for underground mining equipment, firefighting vehicles, and other large utility vehicles.
AT chocks are lightweight with tough urethane construction and include ANSI compliant color written guidelines on proper chocking procedures. AT chocks comply with SAE-J348, NFPA 1901, 1906, and 1911 standards are resistant to oils, fuels, and solvents, have a recessed carrying handle and have replaceable aluminum traction cleats or rubber pads.
Checkers Safety®
Checkers Safety® began in 1987 with a simple vision that still rings true today:
Be a dynamic and growing organization dedicated to saving lives and protecting assets by delivering innovative safety products.
We create reliable safety solutions for our customers by offering a variety of safety products for the Industrial, Military, Mining, Oil & Gas, Utilities, Entertainment and Transportation/Traffic Safety industries