Cyclone Whips
Featured Product from Checkers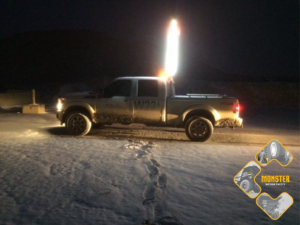 Product Spotlight: Cyclone Whip
This unique whip is made with the same high strength resin as our standard whips, but features an LED strip that is wrapped around the pole and covered with clear heat shrink to prevent water damage to the LEDs. A typical whip only features a light at the top, but the Cyclone's additional LEDs light it up with a brilliance that makes it impossible to miss. When night falls, the Cyclone is transformed from a highly visible rod to a thick beam of light, as demonstrated by the photo on the right. In early tests we actually had tone down the brightness of the LEDs, as the light was blinding drivers who looked in the rear-view mirror, speaking to the extreme visibility of this whip. Several LED colors are available of course; white, amber, and blue LEDs are all available to light up your job site. To view the specs for the Cyclone Whip, click here.
Checkers Safety Group® began in 1987 with a simple vision that still rings true today:
Be a dynamic and growing organization dedicated to saving lives and protecting assets by delivering innovative safety products.
We create reliable safety solutions for our customers by offering a variety of safety products for the Industrial, Military, Mining, Oil & Gas, Utilities, Entertainment and Transportation/Traffic Safety industries.
We house the brands Notrax® Mats for Professional Use, TuffTrak® Ground Protection Solutions, Linebacker® Cable Management, and Monster™ Motion Safety.
Specialties
Oil & Gas, Military, Construction, Mining, Transportation & Traffic Safety, Entertainment, Janitorial & Sanitation