"ICE CREAM SANDWICH" SEQUENTIAL ROAD FLARE The
Featured Product from Checkers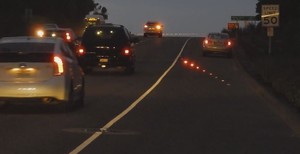 Sequential "Ice Cream Sandwich" Road Flares
Battery status check with push of a button
Magnetic base (can attach to back of vehicle)
Five flash patterns to choose from (change patterns to all flares from any single flare)
12 bright side LEDs, 4 bright top LEDs
Automatically chooses top or side LEDs based on angle orientation of flare (lockable)
50+ foot range (15.2 meters) between flares
Top LEDs will brightly light up inside of cone!
Three different group frequencies to choose from
1-Year Manufacturer's Warranty
Turn off all flares with one button
MONSTER "ICE CREAM SANDWICH" SEQUENTIAL ROAD FLARE The Ice Cream Sandwich "smart flare" incorporates an innovative radio-linked network to automatically sequence the flash. Approaching vehicles see a sequential string of flares much like a airport landing strip that guides traffic around the incident. They are easy to deploy and with a single button press, they advance traffic guidance and safety. This intelligent flare incorporates sequential technology into a smaller, rugged, LED roadside solution perfect for police, fire, first responders, maintenance crews, DOT safety workers, and other traffic safety professionals. This flare is designed to replace traditional magnesium perchlorate flame flares. In addition to being quick and easy to deploy, they provide directional information not available through flame or other flares on the market.
Monster Motion Safety
Our Monster brand deals with safety products for "motion related" activities, such as vehicular and pedestrian traffic safety. Monster encompasses a wide variety of products, including wheel chocks, warning whips, barricade lights, industrial beacons and strobes, parking lot safety solutions, vehicle identification signs, and composite cribbing. These products are manufactured with the same high quality and sounds methods that allowed us to create the most durable safety solutions in the industry. Our chocks are known worldwide, and are a staple of every mine site. As the strongest and lightest chock on the market, the Monster chock makes correct position easy, keeping both people and vehicles safe. Monster whips and signals are long lasting and extremely bright, ensuring visibility and safety. Our parking lot safety solutions, including parking curbs, speed bumps, and speed humps, are designed with premium durable rubber which allows them to outlast and outperform the competition.
Wheel Chocks
Monster™ Wheel Chocks were engineered in collaboration with safety experts to comply with the safety requirements of a variety of industries and ensure a safe working environment while your vehicles are at rest. Offered in a variety of styles, our wheel chocks provide a safe chocking solution for a wide range of ground equipment, commercial, aviation, and military vehicles. Whether you are chocking a fully-loaded 400-ton haul truck or a utility trailer, we have the wheel chocks you need to safely secure your vehicle and meet compliance standards.
Warning Whips
Monster Motion Safety™ Industrial Strength Warning Whips are available in 3, 5, 6, 8, 10 or 12 foot lengths and constructed with a premium fiberglass resin to ensure the highest performance in any condition. These whips include a threaded hex base for vehicle attachment and a heavy duty Day Bright™ fluorescent flag to help identify vehicles, equipment, or important locations at work sites. You have your choice of lighted or non-lighted whips, with various lighting and mounting options available as accessories.
Traffic / Parking Lot Safety
Monster™ Parking Lot Safety Solutions include speed bumps, speed humps, parking stops, wall guards, and barricade lights. Constructed of high quality recycled rubber, our speed humps, bumps, and parking stops long outlast their concrete counterparts. Monster™ Barricade Lights are manufactured in the USA at our factory in Mesa, AZ. Combining durability with high efficiency LEDs and solar and battery powered models, we have a wide variety of options to suite your needs.
Why Checkers?
Companies all over the world trust Checkers Industrial Safety Products with their safety needs. The primary reason you can trust Checkers is because we have a 25-year track record of providing highly effective safety solutions that save lives and protect assets.
Checkers takes the safety of your people and property very seriously. This means working directly with industry experts and safety managers to design products that fit the specific needs of their working environments. Our product development takes place on work sites where our engineers experience the safety challenges firsthand, which allows them to understand the conditions and circumstances where our products will be required to perform. Through this process we gain the knowledge and insight to ensure every one of our customers' needs is satisfied.
Our team then uses innovation and advanced manufacturing processes to create effective products that withstand the harshest weather and working conditions that exist in industrial applications. At this point, we again involve industry experts and safety managers to field-test our products under extreme working conditions. We also submit our products to independent third-party contractors for testing and compliance evaluations. This rigorous testing protocol ensures Checkers products meet or exceed all industry compliance regulations and standards.
Another reason to work with Checkers is that our service professionals are trained to understand the safety issues in many industries. We can quickly help you find the right safety products to protect your people and bring your business into compliance.
Checkers Safety Group® began in 1987 with a simple vision that still rings true today:
Be a dynamic and growing organization dedicated to saving lives and protecting assets by delivering innovative safety products.
We create reliable safety solutions for our customers by offering a variety of safety products for the Industrial, Military, Mining, Oil & Gas, Utilities, Entertainment and Transportation/Traffic Safety industries.
We house the brands Notrax® Mats for Professional Use, TuffTrak® Ground Protection Solutions, Linebacker® Cable Management, and Monster™ Motion Safety.
Specialties
Oil & Gas, Military, Construction, Mining, Transportation & Traffic Safety, Entertainment, Janitorial & Sanitation