Super Whips, Ideal for Construction/Mining!
Featured Product from Checkers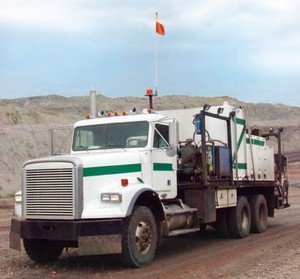 Vehicle Warning Whips to Identify Vehicles or Equipment at Work Sites
Checkers™ industrial strength warning whips are constructed with a premium fiberglass resin to ensure the highest performance in any condition. Available in 3-, 5-, 6-, 8-, 10- or 12-foot lengths, these whips include a threaded hex base for vehicle attachment and either a heavy duty Day Bright™ fluorescent orange, green, or yellow flag to help identify vehicles, equipment, or important locations at work sites.
We offer a variety of base mounts, including threaded hex base, quick disconnect base and lock pin base (only available on the telescoping pole). You have your choice of lighted or non-lighted whips, with various lighting and mounting options available as accessories. Checkers™ whips are engineered to handle the harshest conditions at mines, construction sites, and other industrial applications.
Why Checkers?
Checkers Safety® began in 1987 with a simple vision that still rings true today: Be a dynamic and growing organization dedicated to saving lives and protecting assets by delivering innovative safety products. We create reliable safety solutions for our customers by offering a variety of safety products for the Industrial, Military, Mining, Oil & Gas, Utilities, Entertainment and Transportation/Traffic Safety industries.