Top Five Benefits of Rubber Parking Stops
Featured Product from Checkers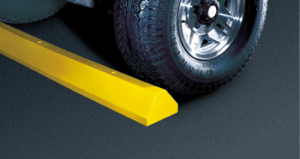 Our rubber parking stops are designed to protect parking structures, vehicles, and pedestrians. They are manufactured from premium, recycled rubber. Rubber parking stop benefits are plentiful, especially compared with concrete options. Take a look at the top five benefits of rubber parking stops below:
5. Environmentally Friendly
Our parking stops are manufactured from recycled rubber from a variety of sources. When it reaches us, it's already ground down into its raw form, and we mold it into our parking stops, as well as several other rubber parking lot solutions. We recycle an average of 1 million pounds of rubber each month, which is approximately equal to 45,500 passenger vehicle tires. If you're like us, and you believe in protecting the environment, purchasing recycled rubber products such as our parking stop is a great way to affirm that commitment.
4. Flexibility
In the perfect world, all parking lots would be perfectly smooth and flat. Sadly, we don't live in a perfect world and often bumps, cracks, and other damage can create uneven surfaces. The great thing about our rubber parking stops is that their flexible rubber construction allows them to contour to the surface on which they are placed. If you are mounting them on a surface that isn't perfectly level, there is no need to worry, they will still serve their purpose and look great doing it. While concrete parking stops may be less expensive, they are also rigid and have no flex to them, which makes them more difficult to mount and more susceptible to damage.
3. Aesthetically pleasing
If you opt for concrete parking stops, the only way to inject any sort of color is to paint them. Not only is this a time-consuming and messy process, but you also need to worry about the paint fading, and matching paint colors if you add more parking stops in the future. Monster parking stops are made with colored rubber, ensuring that they will never fade, and will always make your property look its best. They are currently available in black, blue, and terracotta, with white or yellow tape available.
2. Easy to Install
Our largest parking stop measures six feet in length and weighs a mere 34 lbs. Compared to concrete parking stops, which can weigh hundreds of pounds, our products are easy to position and install, even with just one person. This greatly reduces installation costs, as additional equipment is not necessary, and work crews can be much smaller while still accomplishing the same goal. The portability of our parking stops makes them great for temporary applications as well since they can be quickly deployed and collected after they are no longer necessary.
1. Durability
While concrete parking stops have a tendency to chip and crack, our rubber products will not. Additionally, all of our rubber parking stops feature reflective tape that is actually molded into the product. This prevents the reflective tape from peeling or falling off, a problem seen in some bottom-line driven products. Rubber parking stop benefits also include a resistance to temperature and weather changes that isn't seen in concrete competitors. Similar to concrete roads, moisture can penetrate into cracks in imperfections in the concrete, and then when temperatures drop below freezing, the water expands and causes further damage to the product. This is avoided when you choose a premium rubber solution, such as a Monster parking stop, as they are great for any climate or weather.
To learn more about these great products, click here.
Wheel Chocks
Our wheel chocks were engineered in collaboration with safety experts to comply with the safety requirements of a variety of industries and ensure a safe working environment while your vehicles are at rest. Offered in a variety of styles, our wheel chocks provide a safe chocking solution for a wide range of ground equipment, commercial, aviation, and military vehicles. Whether you are chocking a fully-loaded 400-ton haul truck or a utility trailer, we have the wheel chocks you need to safely secure your vehicle and meet compliance standards.
Warning Whips
Our industrial strength warning whips are available in 3, 5, 6, 8, 10 or 12 foot lengths and constructed with a premium fiberglass resin to ensure the highest performance in any condition. These whips include a threaded hex base for vehicle attachment and a heavy duty fluorescent flag to help identify vehicles, equipment, or important locations at work sites. You have your choice of lighted or non-lighted whips, with various lighting and mounting options available as accessories.
Traffic / Parking Lot Safety
Parking lot safety solutions include speed bumps, speed humps, parking stops, wall guards, and barricade lights. Constructed of high quality recycled rubber, our speed humps, bumps, and parking stops long outlast their concrete counterparts. Barricade Lights are manufactured in the USA at our factory in Mesa, AZ. Combining durability with high efficiency LEDs and solar and battery powered models, we have a wide variety of options to suite your needs.
Why Checkers?
Companies all over the world trust Checkers Industrial Safety Products with their safety needs. The primary reason you can trust Checkers is because we have a 25-year track record of providing highly effective safety solutions that save lives and protect assets.
Checkers takes the safety of your people and property very seriously. This means working directly with industry experts and safety managers to design products that fit the specific needs of their working environments. Our product development takes place on work sites where our engineers experience the safety challenges firsthand, which allows them to understand the conditions and circumstances where our products will be required to perform. Through this process we gain the knowledge and insight to ensure every one of our customers' needs is satisfied.
Our team then uses innovation and advanced manufacturing processes to create effective products that withstand the harshest weather and working conditions that exist in industrial applications. At this point, we again involve industry experts and safety managers to field-test our products under extreme working conditions. We also submit our products to independent third-party contractors for testing and compliance evaluations. This rigorous testing protocol ensures Checkers products meet or exceed all industry compliance regulations and standards.
Another reason to work with Checkers is that our service professionals are trained to understand the safety issues in many industries. We can quickly help you find the right safety products to protect your people and bring your business into compliance.
Checkers Safety Group® began in 1987 with a simple vision that still rings true today:
Be a dynamic and growing organization dedicated to saving lives and protecting assets by delivering innovative safety products.
We create reliable safety solutions for our customers by offering a variety of safety products for the Industrial, Military, Mining, Oil & Gas, Utilities, Entertainment and Transportation/Traffic Safety industries.