Precision Etched Metal Parts
Service Detail from ChemArt Company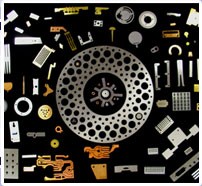 Chem Art utilizes the Photo Chemical Machining process to form precision metal parts. Their primary services include design and engineering assistance, development of precision artwork, and the use of state-of-the-art etching equipment to form metal parts which comply with rigid engineering specifications. Chem Art's experienced design and engineering staff works closely with their customers throughout each step of the project to ensure compliance with specifications, including verification of dimensions, material selection, and quantity required.
The Advantage of Photo Chemical Machining
Low Cost Tooling
Because precision artwork and photographic negatives are the tools used in Photo Chemical Machining, the nature of this unique process eliminates the delays and costs of hard tooling and mechanical dies. This results in highly accurate tools that are made at greatly reduced costs in days rather than weeks.
Speed of Delivery
Phototools are produced within days. Production generally commences with a few days after the approval of the phototool.
Integrity of Metal Properties
Because of the nature of Photo Chemical Machining, the internal structure of the metal remains unchanged by the process. As a result, there is no effect on the original state of the metals with respect to hardness, grain structure, magnetic properties, or ductility.
Multiplicity of Design
Because patterns can be reproduced photographically, jobs requiring a large panel with repeating patterns requiring tight tolerances can be produced easily and efficiently.
Void of Burring
Other processes may result in finished parts that have a burr. There burrs may ultimately be detrimental to the proper functioning of these parts. The photo chemical machining process produces parts that are void of any burrs.
Etched Fold Lines
Partially etched fold lines can be incorporated into the tooling to provide precise and easy formation of the parts.
Metals
ChemArt stocks many metals and alloys in numerous gauges and tempers. Metals that can be etched at Chemart include:
Brass, Copper, Carbon Steels, Nickel, Kovar, Stainless Steel, Beryllium Copper, Phosphor Bronze, Inconel, Alloy 42, Nickel Silver, Invar, Monel, Tin, Mumetal, and various other electronic alloys.
Thicknesses and Tolerances
Metals can be 0.0005" (0.0127mm) to .0900" (2.286mm) thickness.
The standard tolerance is typically 10% of the thickness of the metal or alloy used to produce the part. See our design guide for more details.
---