Catalog... Small Quantity Chemicals
Product Announcement from Chem Service, Inc.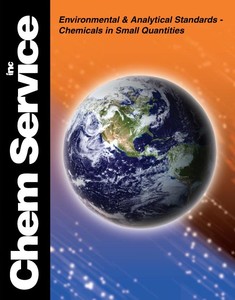 Chem Service 2012 -2013 Environmental & Analytical Standards - Chemicals in Small Quantities Catalog continues the Chem Service tradition of listing thousands of high quality laboratory chemicals and kits in an easy-to-use format - and we made it better!
The Alphabetical Listing has been reformatted so you can find individual analytes with ease.
A convenient CAS Index has been added, making it simple to look up the right chemical.
The world's largest selection of pesticides and metabolites has been expanded with over 100 New Pesticides.
An expanded line of Pesticide Solutions in popular solvents, concentrations and sizes.
An extensive range of Deuterated and Carbon-13 Standards.
The complete line of EPA Method 535 ESA/OA metabolites, available as neat chemicals or in solution form. You can also choose from single analytes or buy all of the analytes as a kit.
The Custom Solution Form now contains an optional area to specify an EPA Method.
Technical tips to improve handling techniques.
And remember - if you can't find what you are looking for in our catalog, pick up the phone and give us a call. You'll immediately be connected with a Customer Service Specialist who will ensure you get the help you need.
Contact us today to receive your free catalog! And you can have it in the form you prefer as we offer it in both the classic print version and on a convenient CD. Your choice. Can't decide? Request both!
---