ISO/IEC 17025:2005 Accreditation
Product Announcement from Chem Service, Inc.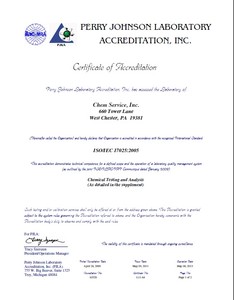 Chem Service is now certified to ISO/IEC 17025:2005.
The accreditation covers technical competence in Chemical Testing and Analysis of chemical reference standards in both neat and solution forms.
Analytical techniques that are certified include Gas Chromatography (GC, TCD, GC/FID, GC/ECD, GC/MSD); High Pressure Liquid Chromatography (HPLC); and Fourier Transform Infrared Spectroscopy (FTIR).
Perry Johnson Laboratory Accreditation, Inc. completed the assessment and has assigned Certificate #L0941 to Chem Service.
---