Kits Certified - Neat Chemical
Product Announcement from Chem Service, Inc.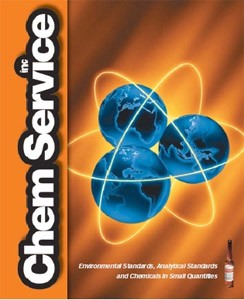 Chem Service supplies certified neat chemical kits. The kits offer the convenience of small quantities, lower cost (usually 15% - 35% off buying them each individually), less disposal problems, less storage problems, and the flexibility for individually replacing the items most frequently used within your laboratory.
Kits Available from Chem Service
Food Analysis Standards Kits

Fatty Acids
Fatty Acids Methyl Esters
Nitrosamines
Vitamins
Carbohydrates

PCB/PBB and Derivatives Standards Kits
Poly Nuclear Aromatics Standards Kit
Organic Chemicals Kits

Mini Stockroom 0-1000A
Large Functional Group Kits
Functional Group Kits

Specialty Chemical Kits

Organic Solvents
Phthalate Kit
Biological Stains Kit
Inorganic Chemical Kit

Commercial Chemical Kits

Oxydation-Ultraviolet Inhibitor Ki
Plasticizer Kits
Surfactants ATLAB HLB Kits
Surfactant Kits
These kits are furnished for laboratory use only. Chem Service's products may not be used as drugs, agricultural or pesticidal products, cosmetics, household chemicals or food additives.
---