Reference Standard - Pyrifluquinazon
Product Announcement from Chem Service, Inc.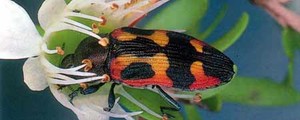 Chem Service - Pyrifluquinazon is a very new insecticide based on a new mode of biological activity. Developed by Nichino/Nihon Nohyaku Co. Ltd in Japan, it is not yet listed in The Pesticide Manual or Crop Protection Handbook. Registration in Japan was approved in October 2010 and a 20% formulation has been developed for Japan and China but it is not on the market yet. Registration in other countries has been started; approval of US registration by the EPA is not expected until late 2012.
Pyrifluquinazon has been assigned CAS #337458-27-2. Its formula is C19H15F7N4O2 with M.P. 138-139°C
IUPAC name is 1-acetyl-1,2,3,4-tetrahydro-3-[(3-pyridylmethyl)amino]-6-[1,2,2,2-tetrafluoro-1-(trifluoromethyl)ethyl]quinazolin-2-one
CAS name is 1-acetyl-3,4-dihydro-3-[(3-pyridinylmethyl)amino]-6-[1,2,2,2-tetrafluoro-1-(trifluoromethyl)ethyl]-2(1H)-quinazolinone
High purity Pyrifluquinazon reference standards are now available exclusively from Chem Service in a 100mg size, P/N PS-2344.
---