Typhoon High Impact Tank Washer
Product Announcement from Chemdet, Inc.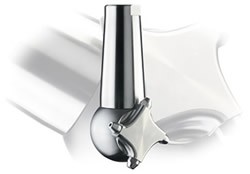 The Typhoon tank washer is designed to be one of the most powerful and versatile cleaning units in its class. The Typhoon's smooth, sleek exterior combined with its self-cleaning abilities, make it well suited for hygiene conscious environments. Powered by a simple, self-operated, self-lubricated turbine drive, the Typhoon is easy to service, with low lifetime costs. The Typhoon provides fast, effective 360° cleaning at pressure from 30 to 145 psi (2 to 10 bar) and has an effective cleaning radius up to 29 ft (8.8 m). Two nozzle sizes are available. When combined with the Veri-Clean validation system, the package makes the perfect jetting tank washer cleaning system.
The Perfect Tank Washer
Ultra Hygienic Design: Reduced Contamination Risk
Low Maintenance: Low Operating Costs
Economic Flow Rates: Less Disposable Effluent
High Impact Jets: Fast Cleaning and Reduced Down Time
Versatile and Unique
The Typhoon is designed to be one of the most powerful and versatile tank cleaning machines in its class. The sleek, smooth exterior, combined with the unit's self cleaning abilities, provides an ultra hygienic exterior surface suitable for use in the most hygiene conscious environments. The spinner is powered by a simple turbine drive, resulting in low maintenance and very low operating costs. The constant, repeatable and validate-able action of the Typhoon tank washer provides very powerful, stable jets with high dwell times, maximizing chemical contact time and mechanical energy. When combined with the new Veri-Clean validation system, the package makes the perfect tank cleaning system.
Applications
The Typhoon's ultra sleek design is ideally suited to all applications where hygiene is a priority. The compact nature of the design combined with its powerful jets make the Typhoon perfect for cleaning a variety of different sized process and storage vessels. Easily portable, the Typhoon can be moved from tank to tank or permanently mounted for CIP applications. The Typhoon tank washer is ideal for use in the brewing, dairy, distilling, soft drink, food, pharmaceutical, chemical, coatings and transportation industries.
Operation
Cleaning fluid powers a turbine mechanism, which drives the Typhoon's vertically aligned gearbox. The controlled rotation of the nozzles creates a spiral cleaning pattern that builds to cover the entire surface of the vessel. The Typhoon's cleaning pattern is predictable, reproducible and verifiable. The functionality of the Typhoon tank washer can be enhanced by the addition of the "Veri-Clean" validation system.
Maintenance
The low wear design of the Typhoon requires minimal maintenance, but when servicing is needed it can be performed quickly and easily in house.
TYPHOON SPECIFICATIONS:
Materials of Construction: 316L Stainless Steel, CF-PTFE, CF-PEEK
Maximum Operating Temperature: 203º Fahrenheit (95º Centigrade)
Maximum Ambient Temperature: 284º Fahrenheit (140º Centigrade)
Minimum Access Port: 4.33" (110 mm)
Nozzle Sizes: 4.5mm, 6mm Diameter
Spray Pattern: 360º Only
Standard Connections: 1" NPS/NPT Female
Weight: 6.17 Lbs (2.8 Kg)
---