Krylex Cyanoacrylates for Durable Instant Bonds
Featured Product from Chemence Inc.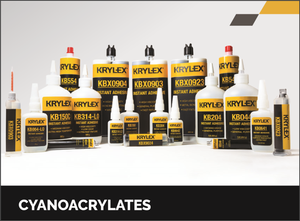 KRYLEX® cyanoacrylates are manufactured by Chemence® in ISO accredited plants operated around the world. The company is a world leader in cyanoacrylate technology research and has developed well over 150 grades of cyanoacrylate based on ethyl, methyl, n-propyl, isopropyl, n-butyl, isobutyl, and alkoxy-ethyl technologies. These range from high purity medical grades to high performance rubber toughened - impact resistant products. Chemence® cyanoacrylates have been formulated to bond a wide range of similar and dissimilar substrates and include surface insensitive and high temperature formulations, as well as low odor/bloom and two component products. KRYLEX® cyanoacrylate adhesives are the first choice of production and design engineers for their speed, strength and versatility of applications.