EZ-Lab Software for Advanced Analysis & Reporting
Product Announcement from Chemsultants International Network, Inc.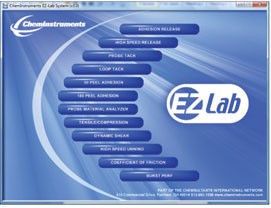 EZ-Lab Data Management software interfaces with all of ChemInstruments' load cell based testing platforms. The software is a very simple and intuitive way to get more out of your testing equipment. EZ-Lab Data Management software provides test data results in report-ready format. This easy to use software provides powerful statistical analysis and reporting capabilities on any Microsoft Windows based personal computer.
EZ-Lab Software Benefits
One main screen contains all commands to easily setup and operate each machine
Test data is automatically graphed upon test completion
Pertinent data points are highlighted on the graph page for easy reference
Files are automatically saved in the root directory for security purposes
Files may also be saved anywhere on a local network
Test data files are transferable across networks and the Internet
Test results can be shared in Adobe .PDF file format.
Up to 5 graphs can be overlaid for comparison purposes
Up to 99 tests can be tabulated for statistical analysis
Convert EZ-Lab files into Microsoft Excel files with one click
Graph cropping feature provides more detailed analysis and selected views
Previous tests are always available for review
EZ-Lab Data Management software can be used with the following test equipment:
Adhesion / Release, Tensile / Compression, Probe Tack, Loop Tack, High Speed Release, 90° Peel Adhesion, 180° Peel Adhesion, Coefficient of Friction, High Speed Unwind, Burst / Perforation, Probe Material Analyzer, Dynamic Shear.
System Requirements
Personal Computer operating Microsoft Windows 2000 or newer
4 MB of RAM
Pentium processor, 200 MHZ or higher
RS-232 COM port or USB with converter to RS-232
3MB of hard drive space
EZ-Lab Data Management software provides a complete testing and reporting platform for R&D, QC, and shop floor testing and data management. Combined with any of our pieces of testing equipment, this software is a very powerful addition to any lab that requires advanced data management and reporting for traceability or ISO purposes.
Software Download
Select a location to save the zip file and click "Save". When the download is complete, open the downloaded zip file by double-clicking on it. Double-click the setup.exe file to start the installation process and follow the on-screen prompts to complete the installation.
---