Swing Arm Sample Die Cutter
Product Announcement from Chemsultants International Network, Inc.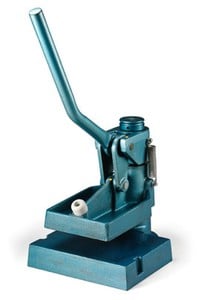 The Swing Arm Sample Die Cutter is ideal for producing samples from paper, film, foil, label, tape and a wide variety of other materials. The Die Cutter employs a safe, manually operated, cam actuated cutting stroke to produce samples with standard Steel Rule and Clicker dies. It is simple to use and eliminates the risk of injury associated with hammering hand held dies when making samples.
Features
Rugged construction, capable of withstanding the abuse of the production environment
Quick and easy to operate and maintain
Upper platen dimensions of 8" x 8" (20 cm x 20 cm
Lower platen dimensions of 9" x 11" (23 cm x 28 cm)
Long-life and replaceable lower platen cutting pad made of nylon
Easy adjustment for stroke and height changes
Upper platen and leverage arm swing away for easy access during setup
Mounts to work table for hazard free operation
Dies available on request, but not included with the unit
---