Multi-axis Gantry System Cartesian Robot
Featured Product from Chengdu Fuyu Technology Co., Ltd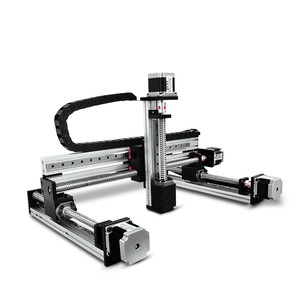 The universal assembly scheme of the Multi-axis Gantry Linear Positioning System FSL40XYZ-L Cartesian Coordinate Robot can promote linear motion to planar or curved motion, greatly improve the convenience of use and effectively reduce the customer's equipment assembly man-hours.
Technical Feature
FSL40 linear guide is semi-sealer structure, body width 40mm, high stability,compact structure,versatility feature, suitable for normal working environment, it is convenient to use single axis or multi-axis to assemble easy functional usage robotic arms for kinds of industries.
Range of Application
Precise positioning, dispensing, spray painting, visual inspection, moving, grabbing, cutting and welding, automatic assembly, automatic locking screws, palletizing, etc. Such as: PCB board detection, optical disc stacking device, parts pick and place.