Custom Sprockets - Black Anodize Aluminum
Featured Product from Chengdu Leno Machinery Co., Ltd.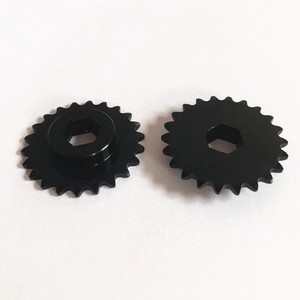 Leno custom roller chain sprockets can be made in Aluminum, steel or many styles, sizes, and configurations. Styles available include A-style (hubless) and B-style (hub). Custom options include keyways, set screws, hex bore and plain or finished bore sizes.
Roller sprockets are combined with a chain with roller pins that ride in the root of the sprocket to transmit mechanical power. The teeth of the sprocket interlock with the individual chain components and as the sprocket rotates it pulls the chain, transferring power from one end of a system to the other.
LENO Sprockets are available made-to-order in non-standard materials or numbers of teeth and for metric chains or even custom chain profiles.