Timing Belt Pulleys HTD8M
Featured Product from Chengdu Leno Machinery Co., Ltd.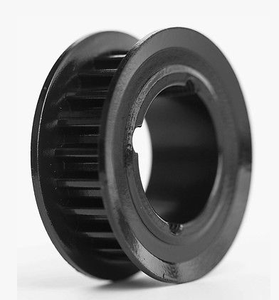 LENO HTD Pulleys are manufactured to close tolerances to ensure concentric running, and have precision generated gear teeth to match the high power and speed capabilities of HTD drive belts. Only high quality materials are used for pulley manufacture; aluminium being selected for 3M and larger 5M pulleys, 8M Pulleys to keep weight and inertia low; all other pulleys machined from medium carbon steel bar or cast iron and finished with zinc phosphate for corrosion protection.Standard pulleys are offered with a large range of tooth sizes in widths to suit all standard HTD belts. Pulleys for 5M, 8M and 14M drives are available with parallel pilot bore for reworking to customers requirements, bored for shaft clamping elements, or with taper bore to be combined with stock taper bushes for the complete off- the Shelf drive. Pulleys of non-standard widths or numbers of teeth can be supplied to order, or teeth can be generated on customers own blanks.

Features of timing pulleys
High quality
Radial transmission
Suitable for high and medium speed
Special hard to process designs are available as made-to-order products.

Benefits
Wide range of Timing Pulleys, Pilot Bore, Setscrew Keyway bore, D shape bore or Hex Bore are also available.
Set screws or clamp-style hubs can be offered
Standard or Specialty surface treatment
Shortly delivery time

Typical Application
Packing Machinery
Agricultural Machinery
Mine Machinery
Conveyor System
CNC machine