Conveyor Belts for Material Handling - Logistics
Product Announcement from Chiorino, Inc.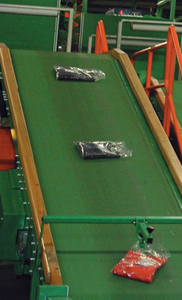 Chiorino's product range provides belts suitable for most all facets of the material handling and logistics industries.
NEW: 2M8 UO-U-G10TP LG - Click here to read more.
In particular, Chiorino's "SILON" - needled polyester material, the "EL"- series of thermoplastic elastic belts and a host of 100% polyester fabric belts covered with PVC, PU or Rubber, with or without high grip profiles provide the optimum in performance. In addition, many belts are available in permanently anti-static or non-conductive and flame retardant qualities.
Typical applications where Chiorino products have proved themselves superior include:
X-ray machines
Airport baggage conveyors
Order pick and package sorting systems
Distribution warehouse facilities
Power turn conveyors
Chiorino, working together with original equipment manufacturers and end-users, has developed a wide range of:
Conveyor and process belts.
High performance flat transmission belts.
Endless rubber mandrel made belts.
These belts are capable of meeting most applications required for the warehouse handling and postal automation sectors.
Features of the Chiorino conveyor and process belts:
Absolutely flat
High resistance to abrasion
Wide range of surface finishing
Optimum flexibility
Dimensional stability
For postal automation, Chiorino has developed Fast joint thermoplastic polyurethane process belts and endless rubber mandril belts that offer a high friction coefficient and precision feeding in most applications:
CFC (Culler Facer Canceller)
OCR (Optical Code Reader)
VCR (Video Code Reader)
Please contact our office for more information or to discuss your particular need.
---