Thermoplastic Machine Tapes; Paper & Printing
Product Announcement from Chiorino, Inc.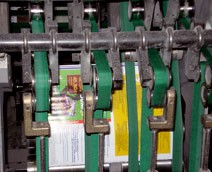 CHIORINO PT Fast Joint MACHINE TAPES
in thermoplastic materials are designed to offer excellent performances, total reliability and extremely rapid replacement in the Paper and Printing sector:
paper processing
rotary and commercial printing, folding and binding industry
The PT series has been developed to meet specific applications required by sophisticated new generation machinery from the most important international OEM's, providing excellent quality and optimum performance.
maximum paper feeding precision
optimal traction of any type of paper
extremely high resistance to chemical agents
high resistance to abrasion
reduced energy consumption
excellent flexibility
long-lasting service
The PT machine tapes are the result of collaboration with important International OEMs as well as of the continuous research on innovative and customised solutions carried out in the CHIORINO R&D Laboratories.
CHIORINO is an International leader in the production of high performance conveyor and transmission belts for every industrial and service sector.
For a copy of Chiorino's Thermoplastic machine tapes for the Paper and Printing industry brochure please email: info@chiorino.us
---