Cartridge Heater Fits Tight Space Tolerances
Product Announcement from Chromalox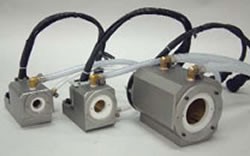 Cartridge Heater Fits Tight Space Tolerances; Meets Electrical Safety Requirements
The Challenge
This medical equipment manufacturer was using a competitor's cartridge heater as part of its balloon catheter manufacturing process. However, the 1/8-inch diameter cartridge heater could not meet strict size and electrical safety certification requirements. The tight tolerance on the cold section near the terminal end required this section to be sized at 1/4-inch consistently on all sides. In addition, the overall heater length needed to be plus or minus 1/32-inch. The industry standard is plus or minus 3/32-inch. Last, the cartridge heater needed to meet CE certification tests 60101 and 60204, which are 2 kVAC and 2 kVDC at 1 mA. The competitor's CE certification is for only 1 kVAC.
The Solution
The Chromalox model CIR Cartridge Heater was specified to meet the cold section tolerance and provide a tighter length tolerance that is much better than the standard. The heater's patented construction and high-watt density capability allow more heat to be generated in less space, with proven performance at 1500 degrees F and higher operating temperatures. The cartridge heater also meets the CE certification test requirement of 2 kVAC and 2 kVDC.
Benefits
The Chromalox cartridge heater improved critical tolerances, allowing the application to reach required heat in a very small space.
The customer's higher CE certification requirements for safe and reliable operation were met.
---