Case Study: Heat Trace System-Canola Oil Facility
Featured Product from Chromalox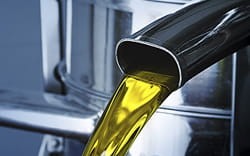 The Challenge
A new canola oil processing facility was architected to contain 5 tanks and over 12,000 feet of piping that needed to have critical temperatures maintained for health safety and yet warm enough for the oil not to congeal during processing. Limited initial design and engineering support by a third-party company put the contractor and engineering staff in an uncomfortable situation. Therefore, Chromalox was asked for support in creating the best possible design.
The Solution
Chromalox designed a heat trace system using the right product for the right task resulting in a combination of SRL-5-1CT, SRL-8-1CT, and SRL-3-1CT heat tracing and only using the more intense SRM/E10-2CT High Exposure heat trace, when necessary. The innovative design for the tanks, that would normally have been heat traced for only freeze protection, was designed to utilize the state-of-the-art Chromalox LTFX-SS-1210, 480v, 9 kW pipe insert immersion heaters. These immersion heaters enable the heat trace system to be maintained without the need to drain the tanks resulting in a tremendous savings for the end client. In addition, Chromalox provided on-site training on how to layout and design a heat trace system so that an accurate cost estimate could be given to the end customer. The result was a more dependable and accurate estimate for the contractor to provide and a cost savings to the end customer due to the lower cost of the tank heaters.
The Benefits
Team support at the engineering firm and on-site with the contractors during layout design
Innovative use of standard products to solve a very unique situation. LTFX-SS Pipe Insert Immersion Heaters used in tanks
On-site support after the sale to ensure operation efficiency.
Cost savings to both 3rd party and end client