Chromalox Electric Circulation Heater Case Study
Featured Product from Chromalox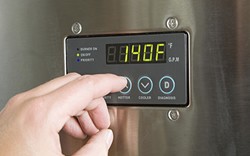 The Challenge: An old-fashioned flame-type 80-gallon water heater could not maintain 750 degree F water temperature to allow quick dissolution of lime in the softening process. A water meter and globe valve were the only controls and they were not adequate for the job. The old heater ran continuously and still could not keep up the 150 degree F temperature demand. It also presented a maintenance problem -- a bothersome leak.
The Solution: A 15 kW Chromalox electric circulation heater was installed to replace the old type system. A flow meter limits the flow of 150 degree F water to 119 gallons per minute. A blender mixes the water to maintain proper temperature and the- heater thermostat gives a temperature range of 50 to 250 degrees F.
Benefits:
Quicker dissolution of lime.
Heater maintains 150 degree F temperature.
Heater thermostat control more accurate and dependable than old meter and valve system.
No need for storage tank with new electric heater system.
No maintenance needed for electric system.