Heat Transfer Systems UpGrade
Featured Product from Chromalox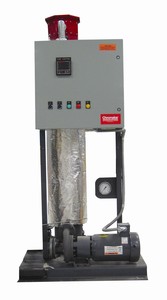 Chromalox M-series heat transfer systems will be receiving an upgrade with the launch of the newest line of Chromalox controllers.
All Chromalox M-series will now have the latest 4081 Advanced Process Controller. This controller is designed to improve user efficiency with the integrated features that reduce startup time, simplify operation, and minimize downtime. The M-series will also offer the 4082 advanced process controller as an optional upgrade. The 4082 will bring additional features such as a 2nduniversal input, multiple digital and analog outputs, and gain scheduling.
The Chromalox M-series is an innovative series of heat transfer systems that utilizes modular construction driven by computer aided design. These combine to deliver a myriad of user options, while providing a competitive delivery schedule.
The MOS series is designed for hot oil applications up to 650°F while the MWS series is designed for hot water heater at temperatures of up to 300°F. The MWSS is a stainless steel system designed for unique applications involving deionized or demineralized water heating.
For more information, visit www.chromalox.com.
About Chromalox
Chromalox is a thermal technology company. We engineer thermal solutions for the world's toughest industrial heating applications. Our Heat Trace segment delivers temperature management solutions for piping systems, valves, and tanks. Our Industrial Heaters and Systems segment delivers process heating solutions for revenue-generating industrial processes, and our Component Technologies segment delivers component heating solutions for industrial equipment manufacturers. Chromalox is headquartered in Pittsburgh, Pennsylvania, USA.