Model TEH Tubular Enclosure Heater for Freeze Protection
Featured Product from Chromalox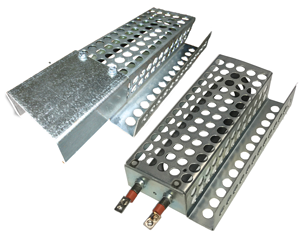 Chromalox, a leader in advanced thermal technologies, announced the availability of the newest enclosure heater. The Chromalox type TEH enclosure heaters and general purpose air heaters are used for freeze protection and condensate protection in electrical enclosures and switchgear. They can also be installed in equipment to keep mechanical components functioning in applications such as valve enclosures and line metering.
The TEH enclosure heaters are designed for and work seamlessly in control panels, instrument housings, medium and high voltage switchgear, and more.
"The launch of a tubular enclosure heating product shows our dedication to providing readily available, cost effective component heating solutions", states Rob Coburn, Director of Industrial Air and Component Heating. "By adding model TEH heaters to our existing silicon laminate (SL) and hazardous location (XPMC) enclosure heating products, Chromalox now has a full suite of solutions for panel and enclosure OEMs and end users", Coburn adds.
For more information, visit www.chromalox.com
About Chromalox
Chromalox is a thermal technology company. We engineer thermal solutions for the world's toughest industrial heating applications. Our Heat Trace segment delivers temperature management solutions for piping systems, valves, and tanks. Our Industrial Heaters and Systems segment delivers process heating solutions for revenue-generating industrial processes, and our Component Technologies segment delivers component heating solutions for industrial equipment manufacturers. Chromalox was founded in 1917 and is headquartered in Pittsburgh, PA, USA.