Turn-Key Operation Keeps Production Flowing
Featured Product from Chromalox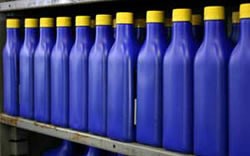 Fast Turn-Around, Turn-Key Operation Keeps Production Flowing
The Challenge: The lubricant division of a major petroleum processor blends and packages motor oil and automotive lubricants, which are then shipped to retailers around the U.S. This company was in the process of adding a new line, which utilizes a synthetic fluid. The new line included a process tank and blending station. The synthetic product was delivered by heated rail car, pumped to the tank, then to a blending station. The newly-installed system had to be preheated and remain at 200° F in order to maintain viscosity and prevent clogging.
The Solution: The new system needed to be installed in less than a month to meet production schedules. Chromalox was contacted by the petroleum companys general contractor, and asked to provide a solution.
Chromalox recommended 800 feet of SRM/E 8-2CT self-regulating heating cable be installed rather than a traditional steam tracing system, which requires more control and maintenance and carries a higher installed cost. The custom designed system is monitored 24/7 by two heat trace line sensing (model HTLS) control panels. These controls maintain the system temperature, and also provide alarms for high or low temperature spikes, current and ground faults.
All installation work was completed on time, which allowed for production to begin within the customers time frame.
Benefits
Truly a turn-key system; Chromalox provided the expertise, product and contractor
Fast turn-around; on-time project start-up
Full system trace reliability
Reduced costs and maintenance, easier to control than steam trace system