What is Abrasive Blasting?
Product Announcement from Church & Dwight, Inc. Specialty Products Division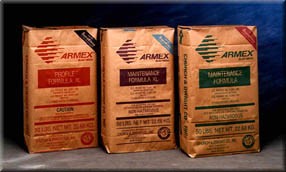 What is ARMEX®? ARMEX® is a baking soda based (sodium bicarbonate, NaHCO3) media manufactured by the makers of ARM & HAMMER® Products. There are over a dozen formulations designed to meet specific surface preparation requirements. Why use ARMEX®? ARMEX® has many physical attributes and chemical benefits that make it uniquely suitable for certain applications.
Concern Attribute Benefit
Substrate Damage Relatively soft (2.5 on the Mohs hardness scale, plastic is 3.5, glass is 5-6, sand is 7, aluminum oxide is 9.
Safer for sensitive substrates. Safe to use around bearings and other rotating parts. Won't change surface characteristics. Micron sized for substrate considerations.
What if I already have a blaster or cabinet?
ARMEX can be used in any equipment manufactured for baking soda blasting. You may even be able to get results with conventional sandblasters, but systems designed for soda blasting will certainly improve performance and cost efficiencies. Pressure systems will generally work better than suction systems. We also recommend that you investigate the use of the ARMEX Performance Nozzles especially if you are trying to strip heavy coatings.
Most cabinet systems are designed to recycle abrasives. ARMEX cannot be recycled as it is extremely friable and breaks down at any pressure. There are two consequences of this action that are addressed in a soda cabinet that are not addressed in conventional recycle cabinets.
First of all the visibility around the work piece may be greatly reduced. This may not be a problem when doing one or two pieces periodically, but if you are interested in production blasting you need the visibility.
Secondly, the dust collector may fill prematurely. As stated ARMEX breaks down on impact and therefore is considered a one-pass media. That means all the debris and spent media would bypass the cyclone separator and go directly to the dust collector, blinding it prematurely. In a cabinet system designed for soda, the cyclone drops out most of the debris, waste and spent media into a drum and only the very fine particulate goes to the dust collector, thus prolonging its use. The drummed waste if tested as a non-hazardous industrial waste can then go to a sanitary landfill.
These are two good reasons to invest in a dedicated soda cabinet system rather than try to use or retrofit a recycling cabinet.
---