Large bakery saves $100,000 a year w/ rotary seal
Featured Product from CinchSeal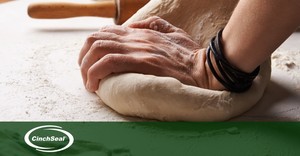 How CinchSeal Saves One of the Largest Bakery Companies $100,000 Every Year
The CinchSeal 9700 series of rotary shaft seals are designed for mixing and blending equipment in a variety of industries, from foodservice to pharmaceutical, chemical industries, and even pet food. It's manufactured entirely out of stainless steel, which is often required in these food processing industries. These industrial bakery solutions offer a number of specific benefits that provide a high return on investment (ROI) for its users.
Problem
One of the world's largest commercial baking corporations was experiencing flour leakage through the shaft penetrations on its commercial bakery mixers, which was contributing to the loss of product and yield. Furthermore, the existing rotary seals were damaging the stainless-steel shafts.
Solution
The CinchSeal 9700 eliminated the loss of flour for the company's industrial dough mixers. It also reduced mixer downtime and protected the shaft from damage. These benefits have provided the company with a documented return on investment (ROI) of $97,736 per year.