Maximize safety for food processing
Featured Product from CinchSeal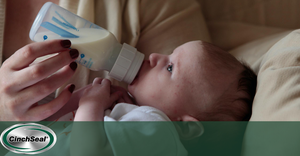 How Rotary Shaft Seals Ensure Success in the Infant Formula Industry
The infant formula ingredients industry has been around for many years and only continues to grow. In 2018, the global market size was approximately $15.6 billion, with a projected growth of about 7.3 percent by 2025. With that growth comes an increased need for both safe and efficient food processing solutions that can meet the increasing demand.
There is a lot involved in the production of infant formula products, including a variety of conveyor systems, holding tanks, mixers, and more. All of which need to avoid leakage and product waste, along with other problems that can put consumers at risk or lead to decreased productivity and profitability.
Like all other food processing applications, all infant formula types require operations to be consistently safe and efficient. Equipment needs to be cost-effective and reliable, and products need to be proven safe to protect consumers and prevent the need for costly shutdowns and nationwide recalls.
How CinchSeal can help infant formula manufacturers
Before the advent of CinchSeal rotary shaft seals, food processing operations relied on mechanical seals to prevent leakage and contamination, but their performance was inadequate.
Mechanical seals tend to wear out quickly, and they're a challenge to repair and replace because of their designs.
Our industrial seal solutions use rotary shaft designs to maximize safety and productivity for food processing and packaging. The infant formula manufacturing process can benefit significantly through the use of these seals in place of outdated mechanical designs.